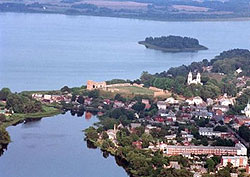 The Ludza District is part of the Latgale region in eastern Latvia. The Latgali tribes were populating this area as early as the 1st century B.C. Some of their ancient castle mounds can still be found here.

Russia is just east of the district; its main town, Ludza, sat at a crossroads of trade routes between Russia and Western Europe. Ludza's historic centre has been ravaged by destructive fires in the past, but some old wooden buildings remain. Its great castle has also become a ruin, although one that is valued as a great cultural heritage object.
The town is surrounded by five lakes: Lielais Ludzas Ezers, Mazais Ludzas Ezers, Runtortas Ezers, Zvirgzdenes Ezers and Dunakļu Ezers thus the name "City of Blue Lakes" is often used for Ludza. One island in the Zvirgzdenes Ezers is a protected nature area.
---