This district contains the main train station and houses mostly poor immigrants, and is mostly dominated by a lot of government offices.
Ludvigsvorstadt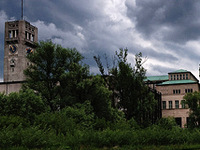 When the mayor of Munich once a year shouts his famous O'zapft is and officially opens the yearly beer festival, Oktoberfest, at Theresienwiese in Ludvigsvorstadt, hundreds of thousands of people flock to take part in the revelry, and shout, eat, drink and swing to the oompah brass bands:
"O tapped is keg with hammer swing
Now men in shorts start yodeling
And drink from steins 2 litres high
Then pee in troughs that stand nearby
O lusty barmaid come to me
And sing songs from the Valkyrie
You wear those horns upon your head
While I shall wear my horns in bed..
In all my drunk hysteria
Is this Austria or Bavaria?
We raise our steins and bratwurst high
And drink until the keg is dry!"......
During the day, this area is busy. The main railway station is on one side and many public offices on the other. The university's medical school and attached hospitals start at the Odeonatz side. It is not completely dead at night either. Two theatres and some eateries revive it a bit. Poor migrants find some shabby housing next to the railway station convenient. This area has good bus, tram, and metro connections, and is near the main train station, the Hauptbahnhof.
Gartnerplatz
Gartnerplatz has a lot of guesthouses and hotels and gay bars, because of its very central location. It is along the banks of the Isar River. It boasts many lovely pre-war buildings. It has a good location, being near the city centre. It is served by excellent public transport, but parking is difficult to find.
Gartnerplatz has the character of an artists quarter, being home to a number of theatres. A great variety of unique little shops line its narrow streets. It also has many pleasant cafes, restaurants, and bars. The German Museum can be found here. Known as the gay quarter of Munich, the whole district has puzzled everybody by producing the highest birth rate on the city charts. Many think that it is due to large number of migrant families living in the vicinity. Lots of young working couples like this area because of the easy access to the park and the river.
Glockenbach
Glockenbach was once a working class quarter, but has become increasingly popular as a residential district. Glockenbach has a trendy character that especially appeals to younger residents, with an eclectic collection of shops, bars, and clubs. There are a number of wonderful pre-war buildings, some cosy establishments and several theatres. The area's proximity to the Isar River adds to its charm. It is also conveniently near the city centre. There is excellent public transport, though it is not easy to find parking.
---