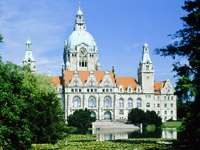 Lower Saxony boasts a picturesque landscape, mostly unspoilt, despite the large industries located here. The varied terrain consists of heath, mountains, forest, peat bogs, and mud flat. Apple trees in blossom add beauty and fragrance to the Altes Land area bordering Hamburg especially in spring.

This is a land of colourful tales, with the tales of Hamelin and the Weser River immortalized in the classic collection by the Brothers Grimm. The Harz Mountain Range is the home of witches in old tales, to which the half-timbered towns and captivating forests provide a perfect fairy-tale backdrop.
Over a fifth of Lower Saxony's territory consists of protected areas. There are several national parks. Lower Saxony lies along the North Sea Coast, and includes some offshore islands in its territory. There are vast white beaches on its sunny East Frisian islands.
There are five principal cities here, which lie near each other: Hildesheim, famous for its historic churches; Salzgitter, the modern centre of the state's steel industry; Hanover, a centre of commerce where the biggest trade fairs in the world are held; Wolfsburg, where Volkswagen has built an automotive theme park; and Brunswick, the heart of the district which has for 250 years been associated with the latest technology.
Each town has its own distinctive character. Some interesting municipalities include Worpswede, a settlement dominated by artists; Wilhelmshaven, the major port; and Oldenburg, a university town.
Goslar, southeast of Hanover, is home to the Kaiserpfalz, the emperor's residence. In the the 11th century Heinrich II moved the royal palatinate from Werla to Goslar, into the centre of the emerging economic region. Goslar evolved into an important Free Imperial City and a member of the Hanseatic League. The buildings and museums left from that era, the Old Town and the Rammelsberg Ore, are listed in the UNESCO heritage list.
Hanover
Hannover (engl. Hanover), the capital of lower Saxony, used to share a king with Britain. Today it is the City of Trade Fairs - including CeBIT, the biggest IT-Fair of all. During the time of the EXPO 2000 it welcomed 20 million visitors from all over the world.
---