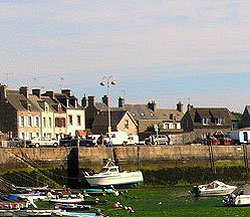 Lower Normandy (Basse-Normandie) is a region rich in gastronomic delights, leading France in the production of apple cider, apple brandy (Calvados), butter, cream, fromage frais, and such cheese varieties as Camenbert, Livarot, and Pont l'Evêque. Food lovers should try touring the Cider Road and the Cheese Road. Lower Normandy is also known for high-quality fresh fish and shellfish.
The famous island abbey of Mont Saint-Michel and the historic Bayeux Tapestry are both located in Lower Normandy.
The capital of Lower Normandy is Caen. The city is famed for its historic sites, such as the castle Château de Caen, that were constructed in the time of William the Conqueror.
---