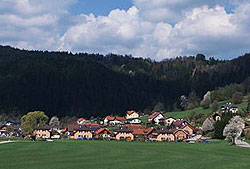 Austria's largest province is Lower Austria (Niederösterreich) in the northeast. Lower Austria is marked by its rich, fertile plains, offering a landscape quite different from the alpine majesty of western Austria. A land rich in history, Lower Austria is covered with large numbers of castles and fortifications, as well as churches and monasteries from a range of eras.
The climate in this sprawling province is varied; the south part of Lower Austria has an alpine climate, which has very cold, snowy winters. The north and east of Lower Austria have a more pleasant Mediterranean climate that brings high temperatures and many days of sunshine. The winters in these parts are cold but relatively mild, with little snow, while summers are hot and humid. It's a good climate for wine growing, and you'll find numerous vineyards in these districts. You can take a wine tour of this countryside, sampling local vintages at such towns as Krems, Hollabrunn, Langenlois, Retz, and Eggenburg.
The district of the Danube Valley has a continental climate. The Wachau-Danube Valley is a beautiful, scenic landscape with many picturesque medieval-era towns, like Krems or Tulln. The valley is also filled with thriving vineyards, old castles, ancient ruins, and many famous medieval monasteries.
The area of the Wienerwald (Vienna Woods) is one of Lower Austria's most splendid districts. The Viennese aristocracy often kept summer homes here. Today it remains a popular summer getaway known for its spa towns, particularly Baden. Officially called Baden bei Wien ("Baden near Vienna") to differentiate it from other places named Baden, the town offers hot mineral springs in a modern spa and health resort environment. Baden is also a good place to start out on excursions into the Vienna Woods, which has a number of excellent hiking trails.
The province of Lower Austria completely surrounds the state and city of Vienna. However, it is comparatively inexpensive to travel or stay in Lower Austria, where prices tend to be about 30% lower than in Vienna, Innsbruck, or Salzburg.
St. Pölten, the province's capital, is the oldest town in Austria. Its historic quarter features many delightful late 19th-century buildings in Baroque and art nouveau styles. St. Polten also has a newer district, the Landhausviertel Quarter, which is dominated by highly modern architecture and consists of government buildings, event halls, museums, and shopping centres.
---