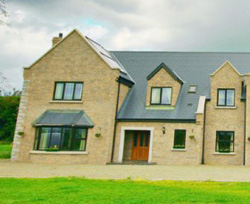 Affectionately nicknamed "the Wee County" by the locals, Louth is the smallest of Ireland's counties, with a land area of just 821 square kilometres. Yet it is home to the second and third largest towns in Ireland: Dundalk and Drogheda. Both were founded by the Anglo-Normans in the 12th century, and both currently have populations just shy of 30,000.

County Louth is on Ireland's northeast coast and boasts picturesque views of the mountains and the sea. Tales of the Irish hero Cúchulainn were set in Louth; the county, whose name is derived from the name of the Celtic god Lugh, is said to be part of the mythical kingdom of Oriel. Among the remnants of its Celtic past are cairns and dolmens. There are also some ruined abbeys, churches, and medieval castles from later years.
Louth has some excellent museums detailing its rich past. The Holy Trinity Heritage Centre relates the history of the town's development since Norman times and the internationally awarded Millmount Museum of Drogheda is one of Ireland's best town museums, housed in a 19th century barracks. Dundalk County Museum hosts cultural activities.
At the northern end of Louth is the remote Cooley Peninsula. From the shores of the Carlingford Lough, the land rises into forested hills. A number of visitor services is available on the peninsula (banks, hotels, restaurants) as it is an excellent place for water sports, fishing, walking, sailing, and riding. The lovely, medieval town of Carlingford sits on the shoreline, National Heritage town that offers wonderful crafts and a variety of restaurants.
---