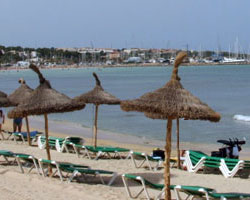 Los Santos is considered the cradle of Panamanian tradition and folklore. Panama's bonds with Spain were severed here - yet the people of Los Santos remain strongly proud of their Spanish heritage.

This heritage is evident in its many festivals, among them the Festival Nacional de La Pollera, the Festival of the Patron Santa Librada, and the Festival Nacional de la Mejorana.

The provincial capital Las Tablas Spanish heritage is visible in its central plaza, which is flanked by Spanish colonial churches and government buildings.

The province has beautiful beaches which bring a lot of tourists every year - El Arenal, Las Almendras, El Toro, Destiladores, Los Uveritos, and the beaches on the island of Isla Iguana. These beaches offer amazing snorkelling and surfing.
The Cerro Hoya National Park and the Isla Iguana Wildlife Refuge offer rich natural sights to explore. History aficionados can spend their time in the Museum of Nationality, the Museum Belisario Porra, and the Museum Manuel F. Zarate.
There are significant archeological sites in Sitio Arquelogico Cerro Juan Diaz, the Church of San Antanacio, and the Church of Santa Librada.
This province's main sources of income are agriculture and cattle raising.
---