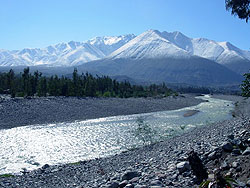 Created in 2007, this region was once part of the vast and diverse Los Lagos Region, from which it was separated due to differences of history, economy, and culture.

True to its name, there are several rivers in the region. The regional capital, Valdivia, is set on the confluence of the Calle-Calle, Valdivia and Cau-Cau rivers, which drain waters from the region's lakes and flow out into the Pacific.

Los Ríos has two provinces: Valdivia and Ranco. The climate in the region is mild and wet, with soft rains falling throughout the year.
Los Ríos has a long colonial history. Founded in 1552, Valdivia was one of the original eight provinces of the Chilean Republic. In the 19th century, German immigrants began arriving in Valdivia and industrialized the area. To this day, German influences can be felt in the town.
Valdivia became prosperous, but fell into decline after the two World Wars. The Great Earthquake of 1960 forestalled any attempts for recovery. While its glory days are in the past, the city still has some interesting places to visit: its biggest market, the Mercado Fluvial, is situated next to the boats on the river and is a great place to buy fish. The Botanical Garden at the Austral University of Chile houses thousands of native and exotic plants.
These days the region's main industries are forestry, cattle raising, food processing and metallurgy. The coastal mountain range is somewhat eroded, while the coastal plains are not very developed.
---