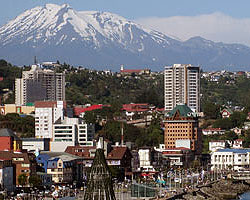 Los Lagos, whose name means The Lakes, has a stunning natural landscape, with lakes and rivers, forests and pastures against a backdrop of rolling hills and volcanoes. Markets sell distinctive local crafts, and restaurants are famous for their wonderful seafood.

A primarily agricultural region, Los Lagos has a mostly temperate rainforest climate. Cold winter rains fall on its Pacific coast, though in the south it is rainy throughout the year. Llanquihe, Chile's second largest lake, is here, in the province of the same name. The Chiloé Archipelago, with its collection of about 40 small islands in the Pacific, is also part of Los Lagos.
With all of this rural beauty, tourism is booming in Los Lagos. The rich flora and fauna and the impressive terrain are a treat for photographers. Visitors can go skiing on snowy slopes, go on cattle drives in the region's many haciendas, or go fishing and sailing on the many lakes that give the region is name.
The region is divided into 4 provinces: Osorno, Llanhique, Chiloé (which covers most of the archipelago), and Palena (which includes the archipelagos islands that are not part of Chiloé province). Its capital is Puerto Montt, which has an important cruise port. Some of its other major cities include Osorno, Castro, Ancud, and Puerto Varas. 
---