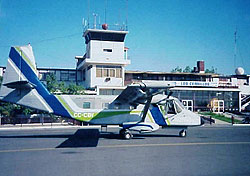 There are more industries in Los Cerrillos than anywhere else in Santiago. However, it is dominated by its airport.

Bordered on two sides by major highways - the Avenida Americo Vespucio in the southwest and the Autopista Central-Eje General Velásquez to the east the Los Cerrillos Airport is the largest structure in the commune.

In the same area along the Camino Melipilla is the National Aeronautic Museum, which has aeroplanes on exhibit both indoors and outdoors, with the larger planes displayed in attractive gardens in front. The Museum has an aeronautics library and permanent exhibitions devoted to the history of flight, from the earliest times (myths and legends involving flying) to the visionary ideas of Leonardo da Vinci and the pioneering work of the Wright Brothers to modern jets.
---