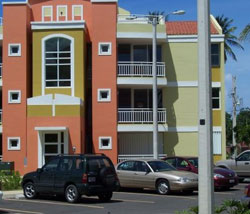 Loiza has the highest percentage of residents of African descent in Puerto Rico, because in the 19th century, it was a settlement of freed and escaped slaves. Most originally came from the Yoruba tribe of Nigeria. As a result, the traditions of the town are a hybrid of Caribbean and African cultures. Sadly, the town remains largely underdeveloped, with most residents living below the poverty level.

This lively mix is evident in their music. While considered the birthplace of the Plena music form, equally popular in Loiza is the Afro-Caribbean dance rhythm, Bomba.

The yearly Fiestas Tradicionales de Santiago Apostol incorporates the Christian faith with African pagan beliefs. During this festival, participants wear colourful costumes and coconut shell masks that represent the good ("caballeros") and the evil ("vejigantes").
Loiza is the home of a valuable prehistoric Indian archaeological site, La Cueva de Maria La Cruz. The popular surfing beaches in the region include Playa de Piñones, Vacia Talega Beach and Aviones Beach. Piñones Forest and Laguna de Piñones are natural recreation areas noted for their mangroves, beaches and sand dunes.
---