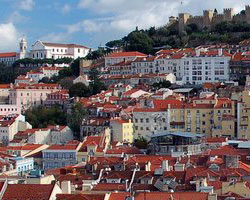 The Portuguese capital of Lisbon (or Lisboa) is the largest city in the country. Lisbon has a generally fast-paced atmosphere, allowing a vibrant modern urban experience. The Portuguese have voted Lisbon as the most liveable city in the country, and indeed more than a million people living in its outskirts enter the city for work each day. Lisbon's lower rental prices and living costs compared to other cities in Western Europe have lured an influx of foreign migrants to city, adding to its cosmopolitan appeal.

Lisbon's location among the Atlantic and Mediterranean climate zones means that lisboetas (as Lisbon natives call themselves) enjoy temperate weather year-round. Hot summers are cooled by breezes from the Atlantic, and the city is protected from harsh winters. It's also a definite plus that beach towns are nearby, so weekend respites from the hustle of city life are always an option.
Although the power Portugal once wielded around the world has long since faded, Lisbon remains a city steeped in history and culturally diversity. The city has an impressive array of churches, palaces, and castles exuding Moorish and Oriental flourishes, blending dramatically with Catholic restraint that echo the city's multicultural heritage (the Castle of Sao Jorge and the Lisbon Cathedral come to mind). There are also a number of museums filled with important classical and modern art collections.
However, Lisbon's charm lies not only in its old-world magnificence, but also in the range of leisure activities in the city. The narrow cobblestoned streets are full of Art Nouveau cafe's where locals take a few minutes off each day to take a breather from the business of urban life. Lisbon has its own distinct coffeehouse culture, and die-hard fans of the beverage should be well pleased by its dizzying array of local varieties.
Energy does not wane after sunset as Lisbon is famed for its very active nightlife. Numerous bars, restaurants, and fado houses keep nightcrawlers busy in the pursuit of fun along Bairro Alto and Doca de Alcantara. Shopaholism is also indulged by the many shopping malls like the Centro Colombo, Centro Comercial Vasco da Gama, the famous market of Feira da Ladra, and along the shopping districts of Baixa and the high-end Chiado.
If you are moving to Lisbon with your family, there are several public, private, and international schools for children of all ages. Tertiary-level schooling is also available at the University of Lisbon, the Technical University of Lisbon, and the New University of Lisbon, as well as in the two state-run universities, the Polytechnical Institute and the ISCTE.
Lisbon has a thriving and buoyant investment property market, with prices that are comparatively lower than in other cities in Western Europe. However, if you don't speak Portuguese, you could snag on many legal and financial difficulties. You would be best advised to course any purchase through a reputable relocation agent or a lawyer to avoid trouble.
---