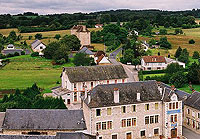 Limousin is a largely pastoral region, and the least-populated region of France. It thrives on farming and cattle herding, and is known for its distinctive Limousin cattle. The climate in Limousin is oceanic: mild and nourishing.
Limousin is often called the French lake district as the landscape is covered with a variety of lovely lakes, many offering excellent waters for fishing, as well as beaches and venues for water sports. There are many charming old villages to visit, such as Collonges la Rouge, Gueret, Aubusson, and Boussac.
Limoges, the regional capital, retains a lot of village charm itself with a number of classic half-timbered houses along its streets, and the impressive Gothic cathedral of St-Etienne.
---