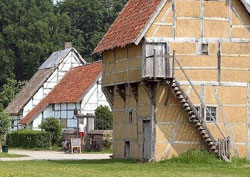 Limburg is Belgium's smallest province. It is divided into three arrondissementen: Hasselt, Maaseik and Tongeren, through which the Maas (Meuse) River runs. There are three major transportation routes: two large motorways (Antwerp-Liège and Brussels-Louvain) and the Albert Canal, which connects the Maas and the Scheldt rivers and the provinces of Antwerp and Liège.

The province has a lot of nature areas with many hiking and cycling paths and recreation centres. This includes the Kempen heathland, a popular place for cycling, camping and picnics.

One of Belgium's two oldest cities is in Limburg: Tongeren, which has considerable Roman excavations and a large antiques market on Sundays.
Limburg is also well-known for its drinks: the local jenever (gin) and Trappist beer, the province having one of the only seven Trappist monasteries in the world that brews beer.
The languages spoken here are Dutch and the local dialect, Limburgish.
Hasselt
Hasselt is the province's commercial and industrial centre. A lot of traffic goes through the city, thanks to its proximity to the large Antwerp-Liège motorway and the railways to Liège, Antwerp and Brussels that intersect at Hasselt's terminal.
The city is enclosed by an outer ring road that keeps the traffic out of its centre, while an inner ring road called the Green Boulevard keeps cars out of its car-free commercial area. The city centre is known for its historical buildings and extensive shopping streets.
Hasselt's attractions include Europe's largest Japanese garden and a popular European pop music festival held every year. Hasselt has a population of 71,000 and calls itself the Capital of Taste for its numerous restaurants and its famous, home-grown jenever, or Holland Gin.
Genk
The nearby city of Genk is one of Belgium's most important industrial cities—a relatively new development, as Genk was a small hamlet of a few thousand inhabitants until the discovery of large deposits of coal here just after World War I. This brought attention to the village and swelled its population enormously.
When the coal mine was closed down, Genk moved on to other industries, and is now home to a Ford Motors production plant, which is the city's largest employer. Five thousand of Genk's 61,000 residents work for Ford.
Today, the old mines are a tourist attraction, as is the Bokrijk, a large open-air museum consisting of 17th to 19th century buildings, brought there from all over the Flemish Region.
---