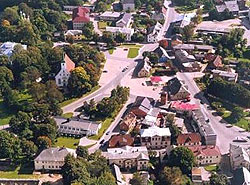 The Limbaži District lies on the northeastern shore of the Baltic Sea. Its main town is Limbaži.

During the Middle Ages, the town was second in importance only to Riga. From the 14th to the 16th century, Limbaži was a major regional trading centre, which hosted trade fairs attended by many thousands of people. Its status declined after 1500, due to the loss of its main trade routes followed by the devastating Livonian War.

Limbaži began to see development again only in the 19th century. By 1934, a new railway line had made the town easily accessible to Riga.
The town has been destroyed at least twice, most recently in a fire in 1747. Thus, its historic centre consists of buildings dating from the 18th century. A few older structures can also be found: some walls that were part of the Riga Archbishop's castle and residence, and St. John's Evangelical Lutheran Church, a stone building dating from 1680.
Limbaži has two other churches of note. The St. Laurentius Catholic Church, dating from 1996, is the first Catholic church to be built in Latvia after it regained its independence in 1991. The 105-year-old Christ Enlightenment Orthodox Church, built in a Neo-Byzantine style, is the biggest Orthodox Church of the Vidzeme region outside of Riga.
---