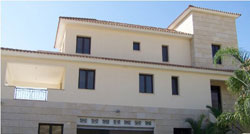 Along the southern coast of Cyprus lies the scenic city of Limassol, backed by the grand Troodos mountains. It is the largest Mediterranean transit port.

Limassol is Cyprus' wine region. More focus is being placed on the tourism industry in Limassolwith plans to develop its marina into a vast commercial centre with various types of entertainment, sports and recreation facilities, eateries, and clubs as well as space for over a thousand yachts.

Already it is the largest resort town on the island, with plenty of housing by the seaside, including villas and apartments. Everyone is drawn to this major centre of business and tourism. Its broad quayside features striking modern sculptures and its narrow streets lined with shops, pubs, nightclubs and discos, attracting a dynamic crowd. Limassol is an especially delightful place to be during its numerous festivals, which include a wine festival in September and a flower festival in May. Undoubtedly the most vibrant festival is the pre-Lenten carnival, which is celebrated with masquerade parties for all ages.
Limassol also has its share of quieter pleasures, such as the Public Garden with its varied greenery and mini-zoo of exotic animals and birds, natural history museum and open-air theatre. Many artefacts from the Neolithic to Roman eras unearthed in the area have been preserved in the town's excellent archaeological museum. The town's medieval castle houses a vast collection of artefacts from 400 A.D. to the 19th century.
Tourists flock to the charming little shops on St Andrews Street and the upscale boutiques on Makarios Avenue.
---