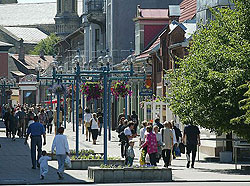 The Liepaja District is found in western Latvia, on the coast of the Baltic Sea. It is part of the Kurzeme region.

Liepaja is the largest district of Latvia. It is a land of lovely white-sand beaches, with high cliffs along its shores. Inland, it is characterized by the low-lying Piejuras Plains. Its location by the Baltic Sea has given it an appealing climate, as Liepaja region has the shortest winters in Latvia and a warm but wet and windy summer climate.

Liepaja has several attractive seaside towns. Pavilosta has a harbour with a wide, sandy beach and boats you can take out for coastal fishing. Jurmalciems is a similar coastal village where most of the population live on fishing, but it also offers tourist lodging opportunities.
Pape Lake is found on the coast of Liepaja. It is a preserved wilderness area that supports rare species of birds, as well as providing a migratory rest stop for bean and white-fronted geese and curlews. A tower affords bird watchers a place to observe the migrating birds. The lake meadows are even grazed by packs of wild horses.
---