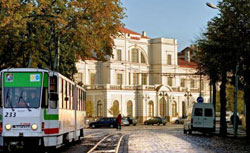 Liepāja is the third largest city in Latvia, and the largest city in the Kurzeme region. It is a coastal city on the shores of the Baltic Sea. It also lies beside two inland lakes, Liepāja and Tosmare. Liepāja is often described as a "green city" due to its nature-rich surroundings, as well as its numerous parks and gardens.

With its position on the coast, Liepāja experiences one of the nicest climates in the Baltics. It is more refreshing here in summer than in most parts of Latvia. On the other hand, winters here are comparatively short and mild. It is subject to a strong western wind from the sea, which accounts for the nickname "City of Winds" or even "the city where the wind is born." This has been used to the city's advantage with the establishment nearby of the largest wind power plant in Latvia.
Karosta
Karosta, on the city's northern edge, was a military town and naval base constructed by the Russians in the early 1900s. It is no longer a military base and most of its fortifications have been torn down, but it remains strikingly different from the rest of Liepāja and is sometimes considered a separate town. A Tsarist palace and several Tsarist-era mansions can be found here.
Liepāja is on the whole a charming place; it is not easily divided into "new" and "old" town areas. Rather, you will find lovely old, beautiful wooden buildings and pretty little side streets scattered throughout. The city centre does feature the Seaside Park (Jurmalas Parks) area, where wealthy families had their grand manors built during the 1870s. At Seaside Park you can still see many of these splendid old wooden buildings, and also visit the gorgeous white-sand beach lined with small cafés and bars.
One of the city's architectural treasures is the Holy Trinity Lutheran Church, with its elegant Baroque facade and lavish Rococo interior. The church houses a manual pipe organ that stood as the largest pipe organ in the world until 1912. It remains highly impressive and beautiful, with its richly ornamental Rococo detailing. From time to time, international organ music festivals are held in the church.
Liepaja has a reputation of being the rock capital of Latvia. A silvery guitar monument that stands across from a rock café in the centre of the city brings this point home.
---