Wartenberg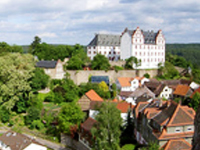 Wartenberg boasts old houses and stables that are now designated historical sites. There are also more modern developments. To the north-east of the old village are structures that were built in the 1920s. There are also 1970s residential buildings and one and two-family homes nearby. The new town centre was developed in 2001, located to the south of the old village centre.
Neu-Hohenschonhausen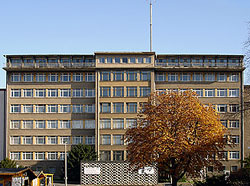 Neu-Hohenschonhausen was mainly an agricultural area until the 1980s. It is an area of no special interest, with pre-fabricated modern glass buildings from the 1980s, with balconies, mostly now renovated and brightened up. There are some attractive new single-family, twin, and multi-family housing developments.

There are plenty of parks and playgrounds, schools, a library, and sports and leisure facilities, making Neu-Hohenschonhausen popular with young couples with children. The Linden Centre is the hub of the district, offering shops, services, and a multiplex cinema.
Alt-Hohenschonhausen
Alt-Hohenschonhausen is based on an old village centre dating to the late 19th century. It has a quirky architectural mix, with renovated old buildings between modern skyscrapers.

New developments include the Storchenhof shopping centre. One principal attraction is the famous architect Mies van der Rohe's house, whose reconstruction was completed in 2002.
The surviving older developments are attractive. These include town houses, villas, single-and multi-family houses, mostly renovated in recent times.
Fennpfuhl
Fennpuhl is a modern and mainly residential area near the exclusive Prenzlauer Berg. It has plenty of high-rise apartment buildings with shops, swimming pools, and sports facilities. Few older buildings have survived, although there are some around Erich Kuttner Street and on Alfred Jung Street and some apartment buildings at the northern part of Mollendorffstrasse. The older buildings were mostly renovated in the late 1990s.
Rummelsburg
Rummelsburg is a neighbourhood close to the Spree River. Once a small fishing village, it became industrialized in the 1880s. Its industrial sites became contaminated during the socialist era but have since been detoxified. Most of the housing consists of pre-fab concrete apartment buildings from that time. They have been improved attracting younger families as it provides affordable housing in a fairly good neighbourhood.
---