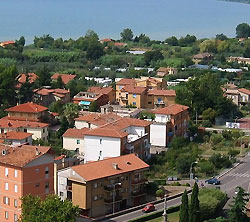 Lazio is the bridge between Northern and Southern Italy. Tuscany lies just to the north of this region. The climate reflects this?generally mild temperatures throughout, but warmer and more humid the closer you get to the Mediterranean coast.


Lazio has a lush countryside characterized by grasslands, olive groves, vineyards, woods and hills, though in the drier south the terrain is more rugged, resembling the neighboring Campania. Here, the smaller hills of the north become large mountains. The large and historic Tiber River runs through the region. Most of Lazio is agricultural, but it is also home to Italy?s largest, most populous city, Rome.
As part of the Papal States, until the late 19th century when it officially became part of the Kingdom of Italy, Lazio was a poor, agricultural region with very little development. Today, it is one of Italy?s most important regions, the source of 10% of the country's GDP.
Lazio?s population is mostly Roman Catholic, though there are also Jewish and Islamic communities in the region.
---