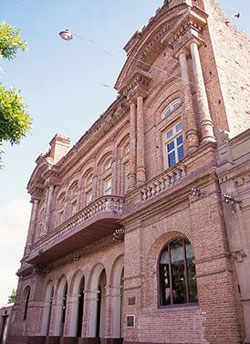 The inland department of Lavalleja is named after Juan Antonio Lavalleja, leader of the Treinta y Tres Orientales.

It is a region of diverse landscapes, with mountain ranges and hills surrounding plains and valleys in the north and a zone of high relief in the south. The Cebollati and Santa Lucia rivers flow through it. The fertile plains are excellent for cultivating rice, soybeans, sorghum, corn, barley, grapes, olives and fruit trees. They also serve as lush grazing areas for cattle and sheep.
The hills and mountains are abundant sources of granite, limestone and other minerals, which are used in the manufacture of Portland cement.
Although its beautiful natural landscape already makes it a popular destination, Lavalleja also serves as a junction to other tourist destinations, such as Montevideo, Buenos Aires, Porto Alegre and Punta del Este.
Minas City
Minas City is the capital city of Lavalleja. It is so named because of the large number of mines in the region, which are important sources of marble, limestone, dolomite, copper and stone. It is especially noted for its factories that manufacture Portland cement.
Minas City is also noted for its mineral water, produced by natural crystalline springs.
---