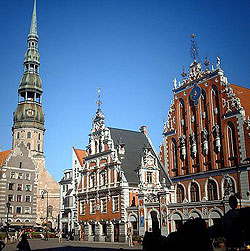 The Republic of Latvia is one of the three Baltic states, along with Lithuania and Estonia, that enjoyed amazing economic growth from 2000 to 2006 after they regained their independence from Soviet rule in the 1990s. They became known as the "Baltic tigers." More recently, though, Latvia has been hit hard by the global financial crisis.

Despite its Soviet past and large ethnic Russian population, Latvia has more of the character of a Western European country. It was under the cultural influence of the Baltic Germans for centuries, even after it was ceded to the Russian Empire in the 18th century. The Germans were instrumental in establishing Riga, Latvia's capital, as the most important city on the eastern coast of the Baltic Sea. Nearly all of Latvia's major towns rose around medieval castles built by German crusaders known as the Livonian Brothers of the Sword. Many of the towns have changed little since the late 1800s, remaining small, agrarian, and steeped in forest.
Latvia is a country rich in woodland, mostly pine forest, which covers almost half of its territory. It has many lakes, particularly in the south-east, and a great number of rivers, among them the Dagauva, the Gauja, the Lielupe, and the Venta. The country's climate is influenced by its proximity to the Baltic Sea; in general, it is moderate, with summers that are warm and sunny. Winters can be long, snowy and harsh, however, except along the Baltic Sea coastline, which tends to experience mild winters.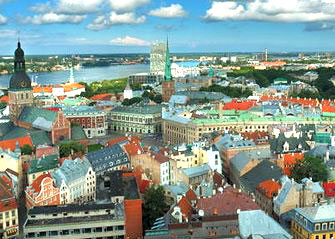 Latvia used to be divided into four regions: Kurzeme (Courland), Zemgale (Semigallia), Vidzeme, and Latgale. A new system of Latvian districts is now in place, but the traditional regional divisions are still often recognized due to their cultural and historic significance.

Kurzeme made up a large part of the territory of the Duchy of Courland, which existed from 1561 to 1795. Ruled by Baltic German dukes, Courland became a trading power that reached the height of its glory in the 17th century under Duke Jacob Kettler.
Zemgale, or Semigallia, was also part of the Duchy of Courland; its town of Jelgava (Mitau) was formerly the capital of the duchy.
Vidzeme, which occupies the north-central part of Latvia, was part of the Duchy of Livonia (later the Polish-Lithuanian Commonwealth) that lasted from 1561 to 1621.
Latgale or Latgalia refers to the easternmost region of Latvia north of the Dagauva river. Unlike the rest of Latvia, which is historically Lutheran, Latgale was a bastion of Roman Catholicism. It was part of the Polish-Lithuanian Commonwealth, and it remained under Polish-Lithuanian control after the rest of the Duchy of Livonia came under Swedish rule in 1621. The region currently has a large Polish minority, as well as a significant ethnic Russian population. Latgale has a different character from the rest of Latvia, and is considered the country's poorer and less developed region.
---