The Latgale district (a prime area) is situated on the right bank of the Daugava River. Latgale has long had a reputation of being a rather shabby part of Riga, but this has been changing with the rise of neighbourhoods such as Andrejsala.
Andrejsala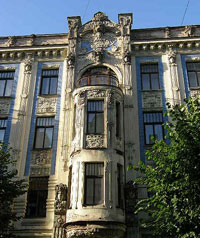 Andrejsala, just opposite Ķīpsala island on the Dagauva, is a former industrial port, but it is currently known for the lively art and music scene that has emerged in its south end. What was once a shipyard drew a thriving community of artists to set up workshops and studios. Cafés and bars soon sprang up, followed by a hostel and artists' residences. Andrejsala became a tourist draw. On the north side, the Latvian Centre for Contemporary Art began using a 100-year-old former thermal plant as an exhibition space. Perhaps unfortunately, this area has more recently drawn the attention of urban developers, who are working on a plan to recreate Andrejsala as "an important district where business and residential use meets tourism and entertainment facilities."
Dreiliei
Dreiliei is a neighbourhood of fairly recent vintage, where you will find many concrete blocks of flats, most of them at a height of nine storeys. Their construction was started in the late 1980s, but the flats were largely empty until people finally began occupying them in 2004. Dreiliei is currently in the midst of a second round of urban development, sparked by the construction of a new motorway in the area.
Ķengarags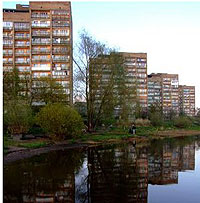 Ķengarags is an area of very old provenance, its name dating back to the 16th century. It was the site of a fort constructed by the Livonian Brothers of the Sword in 1208.

Located to the south-east of central Riga, Ķengarags is one of the most densely-populated areas of the city. It features both residential and commercial areas, and is easily accessible from the city centre via tram, trolleybus, or "elektrichka" rail service. Residences include both private houses and apartment buildings of up to 12 storeys. There is a fair amount of greenery and the river is walking distance from the neighbourhood.
The majority of Ķengarags' residential population is Russian-speaking.
Darzciems
Darzciems is a neighbourhood mostly made up of one- or two-storey private houses.
---