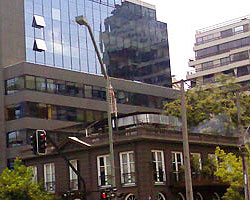 Las Condes (prime area) is widely considered among the best addresses in the province.  An upscale suburban area and one of Santiago's biggest communes, Las Condes is favoured by upper-middle class families. There's a wide range of properties in this elegant commune, from low, older houses to tall apartment buildings more than 15 storeys high to glittering modern skyscrapers the shift goes from block to block. It has a family-friendly atmosphere with many schools near housing developments, and spacious apartments.

Located very near the large and busy Avenida Americo Vespucio, Las Condes has three huge shopping malls: Apumanque, Parque Arauco and Alto Las Condes, both of which have cinemas, supermarkets, shops, and restaurants. Designer boutiques line the posh avenues of Alonso de Córdova and Nueva Costanera. Nearby on the Camino El Alba is the quaint Pueblito los Dominicos, a crafts market where more than 150 Chilean artisans make and sell furniture, ceramics, paintings, jewelry and leather goods.
Getting about is easy as the transport system is very efficient.
El Golf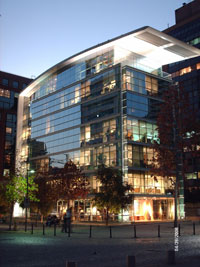 The most expensive part of Las Condes is El Golf, a relatively small but charming neighbourhood of homes, modern apartment buildings, stores and cultural institutions against the backdrop of the Andes. It has been developing rapidly over the last few years, becoming more modern and more exclusive.

The streets of El Golf are wide, with little traffic and no noisy buses. Well-heeled tourists can stay at high-class hotels. This is a good place for al fresco dining, as it has many excellent cafés and restaurants. The food is sumptuous when paired with a famous Chilean wine, proudly served in a trendy bar in this tony part of town. There are always a lot of people out on the streets in El Golf, walking to and from work (there are a lot of high-rise office buildings here) or enjoying a day or night out among the suburb's many restaurants and nearby commercial establishments.
El Arrayán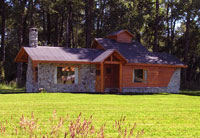 The upscale residential area of El Arrayán in Lo Barnechea was not long ago just a quiet little village situated in a river basin up high in the idyllic foothills of the Andes. The landscape is beautiful, with woody hills, deep valleys, and a relatively pure stretch of the Mapocho River. By the river is the municipal swimming pool, a popular place to cool off in summer.

The nature park Santuario De Naturaleza is in El Arrayán. The vegetation and animal life of the Andes can be admired in this scenic recreation area, where visitors can have a picnic on wooden tables and benches placed under the trees, or go for a hike along the park's winding roads, or go biking and horseback riding. The park's cliff sides are popular with climbers, and anglers go fishing in the streams that ramble their way through the lush vegetation.
---