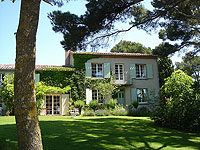 Languedoc-Roussillon is a significant wine-producing region; indeed it may very well be France's oldest wine region. Its vast acres of vineyards cover a combined area thrice that of Bordeaux's vineyards. Numerous wine varieties are produced in Languedoc-Roussillon, including Cabernet Sauvignon, Carignan, Cinsault, Grenache, Merlot, and Sauvignon Blanc.
Languedoc-Roussillon has a dry and sunny Mediterranean climate, very hot, with little rainfall. Winters are usually mild, though in some parts of the region (such as the department of Lozère), the winters can be cold and snowy.
Nîmes is one of the region's most popular tourist destinations (as well as in France). People flock to Nîmes for its extensive Roman remains, which include a highly well-preserved Roman amphitheatre, the Pont du Gard aqueduct, and the Maison Carrée, a classical Roman temple. The city is also famous for textiles, including denim, which is named after Nîmes.
Montpellier is the regional capital. It offers many fine architectural sights, such as the Place de la Comédie, Montpellier Cathedral, the Porte du Peyrou triumphal arch, and many 17th- and 18th-century houses. The Festival de Radio France et Montpellier, a festival of opera and music, takes place in the summer.
---