Lambton Ward (a prime area) is composed of the official suburbs of Brooklyn, Aro Valley, Kelburn, Mount Victoria, Oriental Bay, Te Aro, Thorndon, Wadestown, Highbury, Pipitea, and Roseneath. Informal suburbs of the Ward are Mitcheltown, Taitville, Mount Pleasant, and Flagstaff Hill.



Key residential areas
Brooklyn
,
Aro Valley
,
Kelburn
,
Mount Victoria
,
Oriental Bay
,
Te Aro
,
Thorndon
,
Wadestown
,
Highbury
,
Pipitea
,
Roseneath
,
Brooklyn
The suburb of Brooklyn sits on a hilltop with panoramic views of the city. It has the atmosphere of a quaint timber village, with its Victorian cottages, but it is also a fast-growing community with modern family homes and expensive villas. Some of the houses were even designed by famed modernist architect Ernst Plischke.
Key attractions in the suburb include the Central, Tanera, and Elliott Parks, the Brooklyn Wind Turbine, and the Plischke-designed Sutch House which exemplifies the New Construction Modernist style of the 1930s.
A wide range of properties for every budget is available in Brooklyn. A few local celebrities live here.
Aro Valley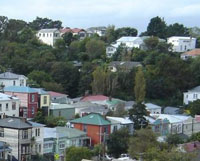 Aro Valley was originally a 19th century working-class suburb, with wooden or corrugated iron housing packed closely together in small sections.

As a result of gentrification that began in the 1970s, Aro Valley has been transformed into a middle-class neighbourhood with affordable housing, friendly residents and a strong community spirit.
Kelburn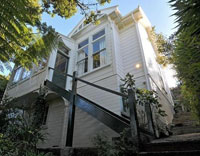 The centrally located suburb of Kelburn has easy access to many of Wellington's popular attractions including the famed Botanic Gardens. It has notable sites of its own, such as Victoria University and the Kelburn Viaduct, one of the oldest bridges in New Zealand. Some of New Zealand's most powerful people reside in this neighbourhood.


Mount Victoria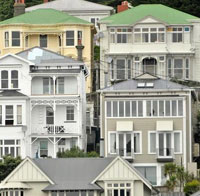 Mount Victoria is a chic area, but though properties here cost a bit higher compared to those in nearby suburbs, they are still within the reach of a middle-income buyer. It is characterized by carefully restored Victorian villas.

Some of the interesting sites here include the Government House, a Greek Orthodox Church, and the Basin Reserve sports ground. Mount Victoria has two of Wellington's prestigious secondary schools: Wellington College for Boys and Wellington East Girls' College.
Oriental Bay
Oriental Bay was named after the Oriental, one of the ships that brought settlers to Wellington. It only had a few boatsheds and houses when it was turned into an affluent address in the early 1900s.

Many of the older houses have been converted into flats and boarding houses. Apartments are also more common now than timber villas.
Oriental Bay is the most expensive suburb in Wellington. Apartments in the suburb are priced at $600,000 up while houses are priced at above $1 million. The houses enjoy scenic beach views and access to golden beaches, a marina, and the CBD.
Te Aro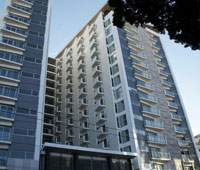 Looking at Te Aro now, it is hard to believe that it was once a Chinese slum area notorious for being a gambling and opium den. The inner city suburb is largely composed of top-quality apartment complexes, some of which are presently under construction.

Because it is in Wellington's entertainment and nightlife district, Te Aro is particularly appealing to students, young professionals, and corporate executives. Courtenay Place, the tourism, arts and entertainment, and fashion hub of New Zealand, is in Te Aro.
Thorndon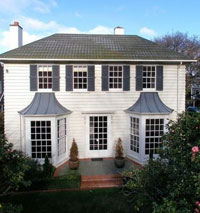 The affluent neighbourhood of Thorndon is characterized by carefully restored and preserved old houses. It has a number of fine restaurants and interior decorating boutiques along Thorndon Quay and Tinakori Road. The Mews is a popular shopping centre for women's fashion.

Thorndon is the site of the exclusive Queen Margaret School and Wellington Girls' College, the National Library, and the Westpac Stadium.
Wadestown
Wadestown is an affluent suburb in Wellington, its luxurious homes blessed with scenic views of the region. The village has a number of excellent shops and services.
Highbury
The suburb of Highbury is close to Victoria University, making it a preferred residence among academics and students. The properties for sale and for rent in the suburb are generally reasonably priced.
Highbury has a variety of homes, from expensive, early 20th century houses to simple starter homes for young couples.
Pipitea
The suburb of Pipitea has historical significance. Once a village along the coast, Pipitea was the site of many battles involving rival Maori tribes.
Roseneath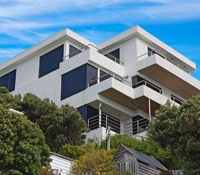 In the hills above Oriental and Evans Bays, Roseneath enjoys spectacular views of the city, the harbour and Maupuia.

There is a wide variety of housing styles here, ranging from quaint cottages to grand Edwardian villas to stylish, contemporary apartment complexes. Aside from its community amenities, including an excellent primary school, Roseneath has the only Anglo-Catholic church in North Island, St. Barnabas Church.
---