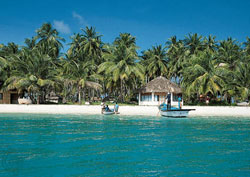 The archipelago of Lakshadweep is India's smallest union territory. The 11 inhabited islands off Kerala in the Arabian sea, along with various uninhabited islands, islet, and atolls, have a land area of just 28 sq. km. The name Lakshadweep means "A Hundred Thousand Islands" but in actuality there are only about 36.

Looking like a handful of emeralds scattered in the turquoise Arabian Sea, these islands are rich in natural beauty. Every island boasts beautiful white beaches and live coral reefs. Lately tourists, especially nature-lovers, have been discovering the wonders of these islands.

The islands are Muslim, and mostly speak a dialect of Malayalam, Kerala's language.
Kavaratti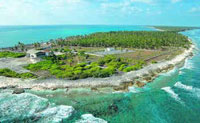 Kavaratti, the capital, is the most populous and progressive of Lakshadweep's islands, a scenic place and a popular tourist destination. On its wonderful beaches there are extensive watersports facilities. Snorkeling, kayaking, water-skiing, and sailing as well as swimming are all great in Kavaratti's jewel-toned waters.

Kavaratti is home to over 50 exquisite mosques. Ujira mosque is especially famous for its fascinating wood carvings.
The island's people are known for their skilful carving, which can be seen in local gravestones intricately carved in stone and engraved with lines from the Koran. The locals are also known for being very friendly.
---