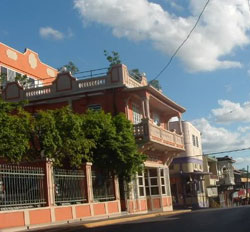 The municipality of Lajas has unique geographic features. Geological upheavals in the region millions of years ago caused the area to emerge from the oceans last. Prolonged submersion in the sea, low elevation and low slope resulted in poor saltwater drainage, so that there are high concentrations of saltpeter in the soil. It is not surprising, therefore, that Lajas is one of the salt-producing towns in Puerto Rico. Another interesting feature are the limestone slabs that were found in the territory by early settlers. It is for the presence of these slabs ("lajas") that the town was named.

Because Lajas is a semi-arid region with few economic resources, canals originating from the dam regulating the Rio Loco bring precious water to fertile areas where sugarcane, pineapples and other small fruits are cultivated.
The fishing village of La Parguera is now a popular resort with water sports facilities, boating centres, seafood restaurants, souvenir shops, and guest houses. At night, there are boat trips to Phosphorescent Bay, where millions of luminescent, microscopic marine creatures known as dinoflagellates illuminate the bay when the surface of the water is disturbed.
Other popular sites here are Laguna Cartagena, Rosada Beach and Mata de la Gata Cay.
---