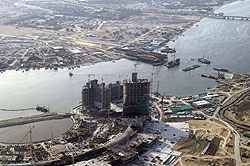 The Lagoons district (a prime area), on the banks of the Dubai Creek, is an amazing work in progress. Seven man-made islands divided by waterways and linked by bridges host a unique mixed-use development seeking to marry natural beauty and modern splendour.

The entire area spans 6.5 million square metres. The Lagoons' waterfront area covers 40 kilometres, between the urban sophistication of the Dubai Festival City and the Ras Al Khor wildlife preserve.

Here corporate towers, shopping centres, first-class hotels, residential and school buildings will sit amid magnificently landscaped gardens and spacious parks. But it will also offer cultural and leisure facilities—it will be the home of the Dubai Opera House and will have an arts centre, a planetarium, a marina and golf course. Residents, executives, tourists and guests will travel within the district through water taxis, private boats and a light rail network.
Dubai Festival City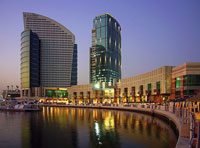 The largest mixed-use development in the Middle East, Dubai Festival City is a three-kilometre residential, commercial and entertainment complex on the Dubai Creek waterfront. It comprises residential subdistricts, hotels, commercial areas, recreation areas and exclusive schools.

One of the Festival City's top residential communities is the Al Badia Residences, a medium-rise neighbourhood situated around the 18-hole golf course of the Four Seasons Golf Club.
Another, the Al Badia Hillside Village, sits atop a man-made hill with a beautiful view of Dubai Creek. Its buildings are mainly apartments that showcase Arabic architecture, and small one-, two- or three-bedroom villas. The nearby Marsa Plaza is a exclusive apartment complex with a swimming pool, a gym and a business centre.
These developments have community swimming pools, sports facilities, restaurants and cafés and a supermarket.
The Festival City's main shopping complex, the Festival Centre, is connected to the City's residential districts by a 30-kilometre internal road network. The area is generally peaceful and safe, its wide roads well-maintained and its green spaces ideal for children to play in.
---
Find properties for sale in Lagoon District, United Arab Emirates