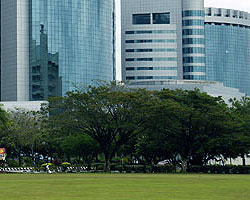 Labuan the name is derived from the Malay word "labohan", or anchorage is made up of the triangle-shaped Labuan island and six smaller islands, about 10 kilometres from Borneo. A former British colony, Labuan became a federal territory in 1994. Six years later it was declared an International Offshore Financial Centre, or IOFC.

As their smallest colony in the Far East, Labuan did not thrive economically under the British, who used it as a trading port, refuelling station and naval base. Now around 6,000 offshore companies, mostly from the Asia-Pacific, America and Europe, are registered with the IOFC.
The territory is only 92 square kilometres in size, and it is flat. There is little agriculture. The south west of the main island is dedicated to manufacturing, ship building and ship repair, as well as oil and gas. Malaysia's biggest war cemetery, with the graves of 3,805 Australian and British soldiers who died during World War II, is in Labuan.
The place is ideal for snorkelling and scuba-diving, not only because its coral reefs but also because it is surrounded by at least four shipwreck sites. Game fishing is another attraction, especially at the Labuan Marine Park, which covers the southern tip of the main island and three smaller isles near it.
---