The arrondissement of La Trinite, which has 11 cantons and 10 communes, is one of two sub-prefectures in Martinique.
La Trinite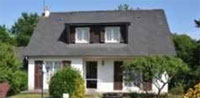 The small port town of La Trinite is known as a trading centre, and has many plantations that grow sugarcane, pineapple and bananas, and sugar mills and rum distilleries.

La Trinite serves as the entry to the popular tourist spot, La Caravelle Peninsula. A waterfront walkway with kiosks and monuments traverses the length of the village.
A very strange sight in La Trinite is its array of seafront palm trees, which have all been completely painted green.
Presquile de la Caravelle/Peninsula Caravelle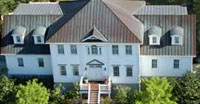 The Peninsula of La Caravelle is a 15-kilometre-long, 900-metre-wide peninsula that juts into the Atlantic Ocean. It was formed during major volcanic upheavals that occurred in the region 18 million years ago. The peninsula serves as the demarcation between the northern and southern Atlantic coasts.  
The coast of La Caravelle is filled with rocks and coral reefs, so that sailing is a bit tricky in this area. It is one of the more popular diving spots in Martinique.