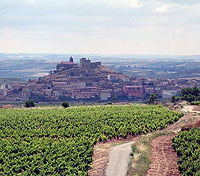 La Rioja boasts a beautiful landscape. Its Cebollera Mountain Range National Park has high snowy peaks. The mountains are good for skiing and other outdoor sports. For the most part the climate is Mediterranean, but it is colder and wetter up in the mountains.

Blessed with fertile land, La Rioja is known for its wine: Rioja DOC. There is excellent fresh produce and lamb is a main staple of the cuisine of La Rioja, but wine is so important to the region that most industry revolves around it. There are over 500 wine bodegas in the region, and many of them welcome visitors with guided tours and tastings.
Flowing through this region is the Rio Oja, which the province and town of La Rioja is named after. Seven major rivers including the Ebro run through La Rioja. Only one national park is located in La Rioja. This is the Cebollera Mountain Range National Park, a mountainous territory with glaciers, snow-capped peaks, and pine forests.
The region's capital city is Logroño.
---