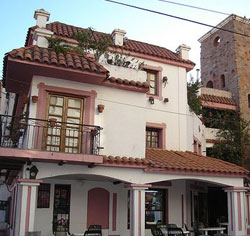 Like its namesake in Spain, La Rioja is one of Argentina's wine-producing regions. It has an arid to semi-arid landscape and contains the Talampaya National Park, a dry, red soil canyon on the course of the dried-up Talampaya River that draws tourists with its incredible rock formations.

La Rioja's tourism industry is gradually being developed. Its natural park has some attractions, and travellers are beginning to take notice of the small, quiet town of Chilecito nestled amidst low, rocky hills and snow-capped peaks. Visitors are charmed by its "Wild West" ambience, with its desert heat and clumps of cactus plants. Tourists also tend to explore the mountain estancia Cerro de la Cruz and the vineyards of the charming village of Villa Sanagasta, or relax in the hot springs of Termas de Santa Teresita.
La Rioja is the home province of two disgraced fomer Argentinan presidents, Isabel Perón and Carlos Menem.
La Rioja City
La Rioja City is not the first place that comes to mind when one thinks of tourism in Argentina. It is a dry, dusty place, a bastion of cattle farming and agriculture with some wine production as well. The city itself is not particularly attractive—nondescript office and apartment buildings, narrow streets and run-down neighbourhoods greet the visitor. However, it is a busy city, and the wine tours of its vineyards are quite popular. Many tourists use the city as a base when they visit other places, such as the nearby town of Chilecito or the Talampaya National Park.
---