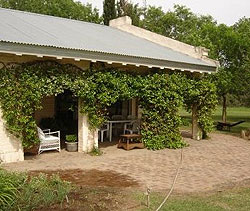 La Pampa, part of Argentina's fertile lowlands ("pampa" means "plain" in Quechua), is driven by its agricultural economy. Its most important feature being the grazing grounds of Argentina's famous cattle. La Pampa is also a raising area for other livestock, including pigs, sheep, and goats. In the fertile grounds of the northeastern region, wheat is abundant.

There aren't too many tourist hotspots here, though visitors interested in agritourism tend to start at Santa Rosa and make their way to the Lihué Calel National Park and the Parque Luro Provincial Reserve, or visit one of the many estancias in the province.
Santa Rosa
Santa Rosa is cowboy country—or, more precisely, gaucho country. Gauchos, who herd cattle on the Argentine pampas, are in good supply in Santa Rosa. While the city has some good hotels, hostels and restaurants, it is also a great place to visit and stay at an authentic, working Argentinian ranch. For obvious reasons, this is the best place to find great steaks.
Santa Rosa is just an hour's flight from Buenos Aires.
---