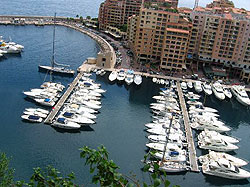 Monaco's flourishing business district and port are in La Condamine (a prime area). It also has hotels, wonderfully unique shopping boutiques and restaurants, as well as a quiet residential area.

Built on the southern side of Grimaldi Rock are the Zoological Gardens. Hippopotamuses, white tigers, black panthers and exotic birds live in this beautiful centre created by Prince Rainier III after a trip to Africa.

A great and unique way to explore Monaco is the Aquavision, a catamaran that leaves from the main harbour and allows passengers a beautiful underwater view of its glorious seascape from its transparent hull.
If you are looking to appreciate some true Monegasque traditions, stop by the 125-year-old open-air market in the Place d'Armes. Looking through the square's neatly arrayed flower, fruit and vegetable stalls under vivid red-and-yellow umbrellas is a great way to spend the morning, and you can follow it up with a coffee and breakfast at any of the square's cafés. Nearby is a pedestrian area lined with manicured gardens, quaint boutiques and a shopping mall.
Harbour Area/Port Hercule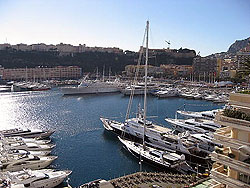 The ancient Port Hercule is a deep-water harbour. The massive bulk of cruise ships, the tall masts of merchant ships and the gleam of the yachts that are berthed here (including the one owned by Prince Albert II) greet the stroller out to enjoy the warm breeze and the hot sun. Nestling amongst these luxurious craft are smaller, more modest fishing boats. With its fine restaurants on the waterfront, the harbour area is a great place to try the French-influenced but distinctive Monegasque cuisine.

The small church on the waterfront is that of Sainte-Devoté, the patron saint of Monaco.
---