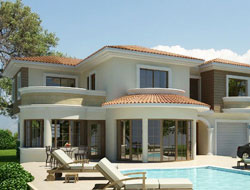 Along the northern coast of Cyprus is the historic town of Kyrenia. Visitors all flock to this picturesque town, with its splendid views, various museums and galleries, and delightful stores and eateries. There are popular beaches and resorts in Kyrenia, with bars, restaurants, and clubs nearby. Nature lovers will be fascinated by Turtle Beach, where turtles can be seen laying their eggs on summer nights.

Fishing boats, pleasure craft, and cruise ships dock side by side in Kyrenia Harbour. The waterfront has restaurants with al fresco seating where diners can enjoy the view. This is a fashionable place to hang out at night, especially in summertime. The cobbled roads behind the harbour lead to some interesting little shops and cafés.
The town is bordered by mountains where thousand-year-old castles roost: Buffavento Castle, once a prison; St. Hilarion, originally established as a monastery in 800 A.D.; and Kantara, a Byzantine structure. The most stunning of the town's castles is Kyrenia Castle, which is brilliantly lit at night. It houses a fascinating historical museum containing the oldest shipwreck in the world.
Many of Kyrenia's old churches are now preserved as historic monuments and museums. The town was mainly populated by Greek Cypriots until it was taken over by the Turks in 1974. These days, Kyrenia is inhabited by Turkish Cypriots and immigrants from Turkey.
---