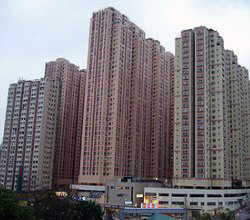 This district to the east of the old airport is densely populated and scruffy, with old industrial buildings and huge government housing blocks. This is the most densely populated area in Hong Kong SAR and it shows.

Decrepit industrial buildings are being refreshed and commercial buildings are replacing warehouses. The area is improving in looks and amenities, but some of the government housing estates are still drab and in urgent need of repair. However, Kwun Tong Street Market is lively and colourful, and the view from Kwun Tong's southernmost point, Devil's Peak, is quite unique. It includes the crowded but auspicious Chinese Permanent Cemetery.
Kwun Tong has 7 MTR stations.
---