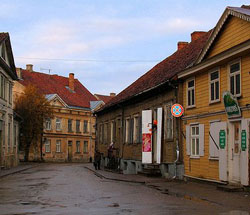 The Kuldīga District is in the centre of the Kurzeme region. The district centre is the city of Kuldīga.

The Venta River and the Abava River flow through the district. The highlands territory surrounding the Abava River is often known as Courland's Switzerland. In contrast, the northwestern part of the district is dominated by the low Piejuras Plains. The Venta River has a remarkable feature: it flows into the Ventas Rumba, a 240-metre natural waterfall making it the widest waterfall found in Europe. The Kuldīga District is rich in forest, with the woodlands occupying slightly more than half of the district's area. About 35% of the rest is rural farmland.
Kuldīga
The small city of Kuldīga is actually more of a town. It is quite picturesque, with many medieval monuments and buildings. Its oldest church, St. Catherine's, dates back to 1252. Its historic centre is considered unique, being the only assemblage of town buildings from the 17th and 18th centuries remaining in the Baltics. These are mostly one-storey buildings equipped with chimneys and red-tiled roofs, decorated with ornamented doors and facades, set along the narrow, winding streets.
---