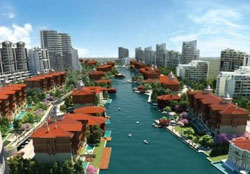 Küçükçekmece lies on the eastern shore of the Küçükçekmece Gölü, an inlet on the European side of Istanbul, connected to the Sea of Marmara through a narrow channel. It used to be rich in flora and fauna, but as the streams carried industrial wastes towards the inlet and the district's population increased, the wildlife gradually disappeared. There are now efforts to improve the state of its natural resources.

As Küçükçekmece becomes more crowded, it is also becoming more commercial and urbanized,as schools, shopping centres, cafés, supermarkets, and pubs are going up. There are some apartment blocks, but even more illegally built gecekondular, or squatters' homes. Most residents are unemployed migrants from the troubled southeast of Anatolia.
Halkal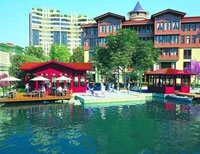 Halkalı is a highly populated residential district in Küçükçekmece. Mass housing was first developed here in the early 1980s. In recent years there has also been a boom in more modern high quality residential complexes. One of these is the Avrupa Residences Project, consisting of several buildings and a total of 2,800 apartments.

The Bosphorus City is a new luxury residential project. The first phase will include 2,086 apartments. Permits for the other phases are still being obtained. The 446,000 square-metre development is a fusion of traditional and modern architecture. It consists of residence towers, waterfront villas and apartments, manors, café-restaurants, indoor and outdoor swimming pools, dance halls, health club, massage rooms, and a mini-golf course. Large areas will also be developed as green spaces and walking paths.
---