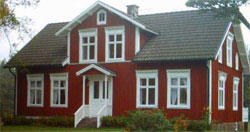 Kronoberg has the most lakes out of all the counties of Sweden. The soil is composed mostly of sand and small boulders, so agriculture is not a prime industry. However, forestry and construction are, as well as furniture and glass design.

The county's main claim to fame is IKEA, the international furniture giant that opened its first store in the town of Älmhult.

In the countryside between Nybro and Växjö is the famous Glasriket, or Kingdom of Crystal, an area where 14 glassworks produce exquisite glass items created by skilled craftsmen. Hundreds of thousands of visitors come to Glasriket every year to watch the glassblowers at work. There are even restaurants and visitors' accommodations nearby.
Part of Kronoberg County is the heartland of the historical province of Småland. Significant places in Kronoberg include the 12th century Växjö Cathedral, the ruins of Kronoberg Castle, and the home of Carl Linnaeus in Råshult, which is now a museum dedicated to the great man.
---