The Kraslava District has been called the land of blue lakes. Some of its most notable lakes include: Drīdzis, the deepest lake in Latvia; Velnezers, known as Devil's Lake; and Ežezers, a lake with more than 30 islands, the greatest concentration of islands found in the Baltics.
Kraslava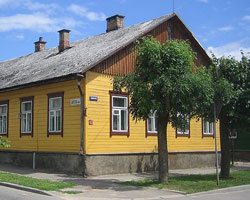 Kraslava is known for its natural beauty. The nature park Daugavas Loki stretches from Kraslava to Daugavpils, following the ten great bends of the Daugava River between the towns of Naujene and Kraslava. The park's main purpose is to preserve the beautiful landscape and unique wildlife of the Daugava river valley. It is a popular site for walking and cycling, as well as enjoying several cultural attractions. The Dinaburga Castle ruins, Markova castle mound, Adamova castle mound, and the preserved 15th century village of Slutišķi can be found within the park area.

Adjoining the nature park is the city of Kraslava. It is a lovely town, embedded in the alluring green world of the Daugava valley with its forests of dark pine and fir. It began to develop as a town in 1729, under the ownership and patronage of Count Jan Ludwig Plater. The count and his successors, especially his son Konstantin Ludwig Plater, were responsible for Kraslava's growth and industrial development for two centuries thereafter. In 1923, Kraslava finally attained the status of a town.
The onset of World War I forced the Plater family out of Kraslava; their direct line was to die out in 1947. But their heritage remains in several of Kraslava's landmarks, such as the Kraslava Catholic Church, New Kraslava Castle, the Jewish synagogue, and the massive Grafs Platers library designed in Baroque style.
---