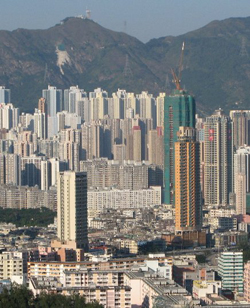 Everyone who has travelled to Hong Kong before 1998 has been to Kowloon City (a prime area). The old airport was here, on a little slip of reclaimed land next to huge housing blocks. Travellers could peer into the homes and inspect the fluttering laundry of the airport's neighbours.

Once largely industrial, Kowloon has become primarily residential. And with building height restrictions now lifted, the city is changing. Original residents living in 4-storey shop houses in old narrow streets now have new high-rise luxury developments shading their homes.
The community is quite vibrant, with a busy wet market and several parks. The famous Kowloon Walled City Park has remnants of the original walled fort. It is quiet and tree-filled, with walkways and bike paths. The old airport is still unused while development plans are not finalized. Cruise terminals, a large park, hotels and housing are being planned for this space.
---