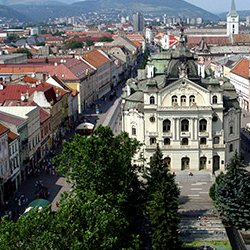 Kosice's rugged terrain alternates between plains and mountains. Its natural beauty is one of the region's key attractions. The Slovak Paradise National Park spans 140 square kilometres of forests, valleys and caves, the home of hundreds of species of animals and plants.

The main industries of the region are metallurgy, industry, and agriculture. This region is also into chemical and electro-technical production and extraction of gas deposits, and brown and black coal. Mining, smelting, and the raising of oil-producing crops such as sunflowers and grapes are other industries in the region.

Like Bratislava, Kosice also has a continental climate, with snowy winters and warm summers.
Kosice City
The second largest city in Slovakia, Kosice City is filled with splendid monuments and palaces. It was the first city in Europe to be given its own coat of arms. The city has a lively and innovative cultural tone, and is also known as the City of Youth.
The heart of Kosice City boasts of an enormous pedestrian area with numerous shops, old buildings and palaces whose impressive façades have been remarkably preserved and which have been unobtrusively transformed into museums, offices, and art galleries. One of the most famous landmarks of the city is the impressive St. Elizabeth Cathedral, a romantic Gothic structure dominating the main city square. The Kosice State Theatre with its lighted and singing fountain is also a popular tourist attraction.
---