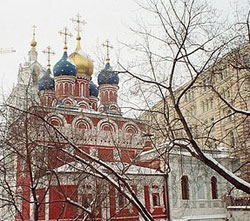 Kitai-gorod (a prime area) is a busy business, commercial and residential district near the Kremlin. It is encircled by medieval walls and bordered by Moscow's Central Squares: Red Square, Theatre Square, Lubyanka Square and Slavyanskaya Square.

Its main streets are Varvarka, Ilyinka, and Nikolskaya. Shops, banks and other commercial enterprises line these streets, and Moscow's first university, the Slavic Greek Latin Academy (now the Moscow Theological Academy and Seminary), is on Nikolskaya.
One of Moscow's oldest religious buildings, the gold-domed Epiphany Monastery, is in the middle of Kitai-gorod. The buildings here are an interesting mix of Soviet-era blocks, elegant Art Nouveau homes, and traditional Russian architecture.
Kitai-gorod's Zaryadye quarter is notable for its cluster of historic buildings, mostly churches from the 17th to the 19th centuries. A 16th century estate belonging to the Romanovs sstill stands as well. This is the only place left in Moscow where such a group of old buildings has been allowed to survive. Many other old buildings in the neighbourhood have not been given the same consideration, however; they are being torn down to make way for newer edifices.
Kitai-gorod is both a quiet residential neighbourhood and the centre of the city's night life. Some of Moscow's most popular clubs are located here. Restaurants and cafés, galleries and museums, and parks and ponds make Kitai-gorod a beautiful and interesting place to stroll around in.
Chistye Ponds Area
The Boulevard Ring goes through the Chistye Ponds. Here, Communist-era apartment blocks still stand, along with even older houses from the late 19th and early 20th centuries and medieval churches.

The neighbourhood's name means "clean ponds"—a necessary change from Poganye ("foul") Ponds, its old appellation back when the place was a meat district. In the early 18th century, the ponds were cleaned and the area turned into a prime residential neighbourhood. Today, 18th and 19th century states stand near the neighbourhood's lovely park. Chistye Ponds has two fine cinemas that show films in Russian and in English, as well as a vegetarian restaurant.
---