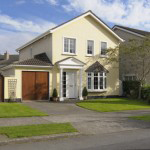 The county of Kildare is horse-breeding country. The wealthiest Irish county outside Dublin, Kildare is also a centre of manufacturing and road and rail transport. Two canals running through the county were built for transport in the 18th century, but are now mainly used for leisure boating. People also love to walk along the canals.

The Irish National Stud is one of the county's main tourist attractions and the only stud farm in Ireland that is open to the public. Its finely bred, four-legged inhabitants are the main attraction, but the farm's grounds also include St Fiachra's Garden, a beautiful area of woods and wetlands, islands, lakes and rocky pools, and the elegant Japanese Gardens, arranged to represent the life of man.
Most of the town's population is concentrated in the capital, Naas. It is the only town in Kildare with a population over 30,000. Another town, Ceilbridge, is the biggest one-street Irish town. Leixlip is dominated by industry and Maynooth is the county's academic centre, being home to branches of the National University of Ireland and St Patrick's College.
---