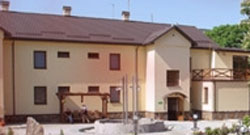 Khmelnytskyi oblast lies in Western Ukraine, dominated by the Podillia highland in its centre. It has 120 rivers, the largest of which are the Dniester River and the Southern Buh River, with several ponds and reservoirs.

The oblast's industry relies on agriculture, energy, and transport. It connects the Black Sea Coast and Russia to Central Europe via rails and highways.

Khmelnytskyi's blooming gardens lure tourists in summer, and its mild climate and scenic rivers earn it the reputation of an "almost paradise".
The oblast's capital carries the same name, Khmelnytskyi, which lies on the banks of Southern Buh River.
Khmelnytskyi City
Khmelnytskyi City lies on the banks of Southern Buh River. Its location, natural resources, and transport connections make the city a functional and practical place. It produces wheat, rye, potatoes, sugar beets and other crops. It is also rich in mineral deposits, and stones and sand used as construction materials.
Khmelnystkyi suffers from its urban planning, which is rather directionless and can be quite confusing. But the city's main street, Proskurivska, is lively. There are many pubs, bars, and restaurants here, as well as rental houses. The city does not have a lot of remarkable architecture either, but there are two monuments of Bohdan Khmelnytsky, the legendary Cossack governor whom the city was named after.
---