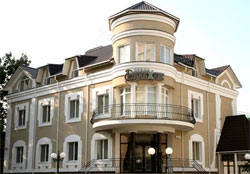 The oblast of Kherson along the lower Dnieper River has a temperate continental climate that is favourable to its health tourism industry. The oblast has a number of mineral deposits that are used for medicinal purposes. This influenced the growth of health camps, sanatoriums, and rest houses in the area.

Kherson is a highly developed industrial region, and produces electro/technical machines, agro-industrial equipment, and welding equipment. Its food production is also booming.
Kherson City
On the bank of Dnieper River lies Kherson, capital of the Kherson oblast and one of Ukraine's warmest cities. It is an important rail junction and also has two ports, which trade with over 40 countries.
Kherson City is one of the country's greenest cities. Two of its many leafy areas are Lenin Park, which features a great oak which is more than a hundred years old; and the Park of Glory, which stretches along the upper Dnieper River.
The city is divided into two the old and new districts. Administrative offices and memorial sites are concentrated in the former, while multi-storeyed buildings can be found in the latter. It is also a university town with many educational establishments.
Kherson becomes more modern each day and now has many shopping malls, high-class stores, several hotels, and modern cinemas which show movies in Russian. There are many bars, restaurants and clubs that keep nightlife active.
---