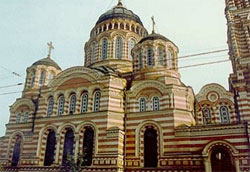 Kharkiv is the country's third most populous oblast, with more than half of the population living in the capital, Kharkiv City. It is highly industrial and succeeds in mechanical engineering, metallurgy, manufacturing, chemical production and food processing. Kharkiv takes pride in being the largest scientific industrial and trade centre in Ukraine.

Kharkiv is also called "Kharkiv Switzerland", because of its fragrant pine forests and fields teeming with flowers.

The banks of the Pechenezhskoye and the Krasnooskolskoye reservoirs are famous leisure places in the summer. Pesochin town is well-known for its summer houses. Other beautiful sites here are those places were forests meet the lakeshores, such as in Kharkiv, Chuhuyiv, and Zmiyiv.
Kharkiv City
Kharkiv City was once the capital of Soviet Ukraine. Its functions are quite varied—industrial, scientific, educational, transport, and cultural. Its industry thrives on machinery. Kharkiv is home to a number of national and private higher education institutions, and hosts many foreign students. Its research institutes are known worldwide in fields such as cryobiology, solid-state physics, and genetics.
Kharkiv carries more than 350 years of history, tradition, and architectural achievement. Some of these are the Memorial Complex, the Taras Shevchenko Monument, and the golden-spired Dormition Cathedral. The landmark Svobody (Freedom) Square is one of the largest squares in Europe. It hosts concerts, festivals, fairs, and rallies.
The city has a number of theatres, cinemas, and a philharmonic society. And as a centre of business tourism, it continues to welcome the construction of many new hotels and business centres.
As Kharkiv will host matches of the UEFA Euro 2012 Cup, many hotels are being restored or rebuilt. Most apartment buildings here are safe and well-equipped.
---