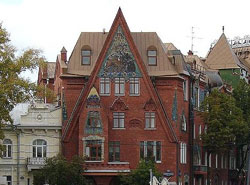 Khamovniki (a prime area) is home to Moscow's costliest residential area: the stretch between Boulevard Ring and Garden Ring, called the Golden Mile, which is lined with modern mid-rise apartment buildings.

Khamovniki is also a historic district with several tourist attractions including the 500-year-old, golden-domed Novodevichy Convent, which served as both a religious house for the daughters of the country's noble families and a mighty fortress protecting the city.

At the heart of the district rises the Cathedral of Christ the Saviour, rebuilt in 2000 after the 19th century original was destroyed in 1931. Also in this area is Russia's biggest sports arena, the 78,000-seater Luzhniki Stadium.
Volkhonka and Znamenka Streets were the site of the royal court in the 14th century. Now, where the court once stood are the Russian State Library and the State Pushkin Museum of Fine Arts, which houses Russia's second largest collection of foreign art, after the Hermitage. Much of Volkhonka was also cleared in the 19th century to make room for the Cathedral, while Znamenka is now lined with the offices of the Ministry of Defence.
Much of this area was destroyed by fire in 1812. It was rebuilt in the then-fashionable Neoclassical style and the elite were drawn to this area. The Devichye Pole Clinic was erected here in 1890, eventually followed by its medical campus, which is a showcase of varied architectural styles from the early 20th century.
Some of the elegant 2- and 3-storey mansions in Prechistenka built immediately after the fire still survive. So do some smaller buildings and upmarket Stalinist apartment blocks in Ostozhenka, between Komsomolsky Prospekt and Moskva River. Unfortunately, many dilapidated wooden houses are scattered throughout the area between Ostozhenka and the embankment.
---