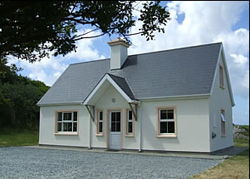 Traditionally known as "the kingdom," Kerry is a land of majestic beauty. Vast mountain ranges run through the county. These mountains include two of the highest in Ireland, and together with southwesterly winds give Kerry a rather damper climate than most other parts of Ireland.

Kerry lies along the Atlantic coast and has a number of peninsulas and offshore islands. The North Atlantic current flowing in its waters gives it a mild climate that supports the growth of subtropical plants, such as the strawberry tree. The River Shannon forms its northern border and three major rivers run through it, but Kerry's most celebrated bodies of water lie in the heart of the county, in the picturesque Killarney National Park: the magnificent Lakes of Killarney. With its bounty of water, this county is an excellent place for fishing and water sports. There are some good golf courses here too.
As it is quite remote, this tranquil county has managed to preserve Irish traditions more than most, especially local music and dance. Kerry is known for its charming villages and early Christian ruins. Its most famous historic monument is the ancient cliffside monastery in Skellig Michael, one of the Skellig Islands and a World Heritage Site. The county's many attractions are best taken in on a drive on the Ring of Kerry or a hike on Kerry's Way. Paintings that capture Kerry's glorious countryside may be viewed in the Brandon Gallery in the town of Brandon. The county capital, Tralee, is a lively place with plenty of shopping and dining options and an authentic 18th century seaport.
---